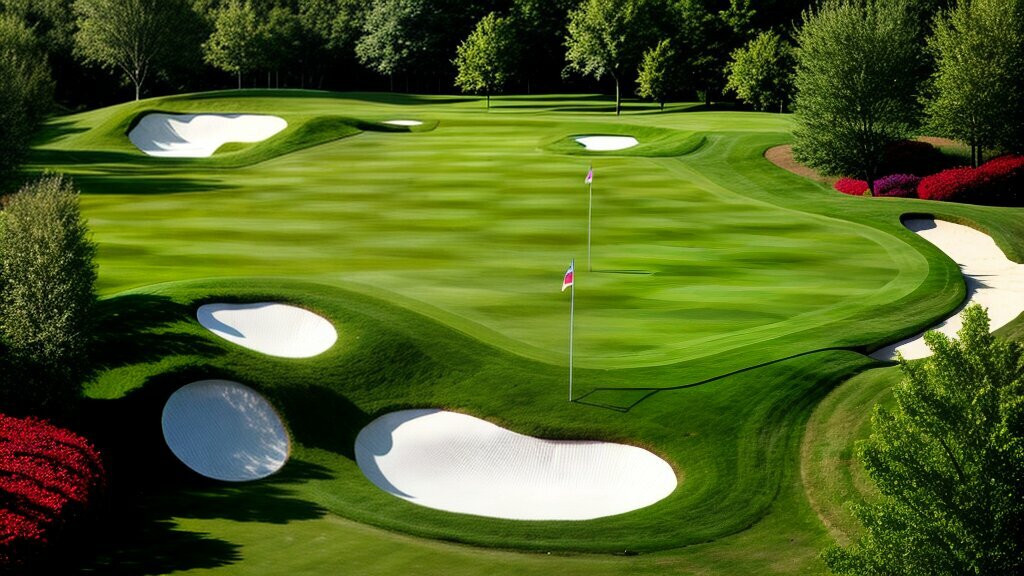 How to Play Mini Golf
If you're looking for a fun and challenging way to spend an afternoon with friends or family, mini golf is a great choice. This popular pastime is enjoyed by people of all ages and skill levels, and with a bit of practice, anyone can learn to play like a pro. But before you hit the course, it's important to familiarize yourself with the basics of the game and understand the equipment you'll be using.
In this article, we'll cover everything you need to know about playing mini golf, including the rules of the game, selecting the right club for each shot, mastering your grip and swing mechanics, reading the green, avoiding hazards, and more. By the time you've finished reading, you'll have all the knowledge you need to start playing with confidence and improving your skills over time.
Key Takeaways:
Mini golf is a fun and challenging pastime that can be enjoyed by people of all ages and skill levels.
Before you start playing, it's important to familiarize yourself with the basic rules of the game and the equipment you'll be using.
To be successful at mini golf, you'll need to master your grip and swing mechanics, read the green effectively, and avoid hazards on the course.
Practicing your skills regularly and observing proper etiquette and sportsmanship are also key to becoming a skilled mini golfer.
Mini Golf Basics
Before diving into the gameplay strategies of mini golf, it's important to understand the basic rules and equipment needed to play. Mini golf, also known as miniature golf or putt-putt, is a fun activity enjoyed by people of all ages and skill levels.
The objective of mini golf is to complete the course in the fewest number of strokes possible. The courses usually consist of 18 holes, each with a unique layout and obstacles.
Equipment
Rules

Mini golf putter
Golf ball

The ball must be hit with the putter.
Once the ball is struck, it must remain within the boundaries of the course.
If the ball goes out of bounds, a penalty stroke is added.
The ball must come to a complete stop before attempting the next shot.
Mini golf courses may have different themes, such as pirate or jungle, and may feature obstacles like windmills, water features, and ramps. Understanding the layout of the course and the basic rules is crucial for successfully completing the game.
Choosing the Right Club
When it comes to mini golf, choosing the right club can make all the difference. Each shot requires careful consideration of the distance, obstacles, and desired outcome. Here are some tips to help you choose the appropriate club:
| Club Type | Shot Type |
| --- | --- |
| Putter | Short, straight shots on flat ground |
| Iron | Longer shots that require loft over obstacles |
| Wedge | High arc shots that require precision over water or other hazards |
It's important to note that each course may have different club preferences or restrictions, so be sure to check with the course before playing. Some courses may also provide club recommendations based on the difficulty of each hole.
Ultimately, the club you choose will depend on the specific shot you are attempting and your personal playing style. With practice and experimentation, you'll become more confident in selecting the right club for each shot.
Mastering the Grip
A proper grip is essential for executing accurate shots in mini golf. The grip is the only point of contact between the player and the club, making it crucial to achieve a comfortable and stable hold.
Begin by holding the club with both hands, with the dominant hand on top and the non-dominant hand below it. The thumbs should point straight down the shaft, and the hands should be close together at the base of the grip.
Next, position the clubface perpendicular to the ground and ensure that the hands are squarely aligned with it. The grip pressure should be firm yet relaxed, with the fingers comfortably wrapped around the handle.
One common mistake is gripping the club too tightly, which can tense up the muscles and lead to inaccurate shots. Focus on maintaining a light and even pressure throughout the swing, allowing for a fluid motion and better ball control.
Proper grip technique is something that can be practiced off the course as well. Try gripping the club while watching TV or during a break at work to build muscle memory and improve your technique.
Experiment with Different Grips
There is no one-size-fits-all approach to grip technique, as each player may have different preferences and hand sizes. Experiment with different grips, including the interlocking, overlapping, and baseball grips, to find the one that feels most comfortable and natural to you.
Keep in mind that the key is to find a grip that allows for proper wrist hinge and clubface control throughout the swing. Test out different grips during practice rounds to see which one works best for you.
Understanding Swing Mechanics
When it comes to mini golf, a successful swing relies on a combination of proper form and technique. Here are some key elements to keep in mind:
Posture
A good stance is the foundation of a proper swing. Start by standing with your feet shoulder-width apart and your knees slightly bent. Keep your back straight and your eyes focused on the ball.
Alignment
Proper alignment is key to hitting the ball in the desired direction. Before taking your shot, make sure your body is parallel to the intended path of the ball and that your toes, hips, and shoulders are all facing the target.
Grip and Motion
A stable and comfortable grip on the club is essential to controlling your shot. Hold the club with your hands close together, keeping your wrists firm and your arms extended. Then, using a smooth pendulum motion, swing the club back and forth, letting the weight of the clubhead do most of the work.
Remember to keep your swing relaxed and fluid, and don't be afraid to adjust your grip or stance if necessary. With practice and patience, you'll soon be hitting those mini golf shots with confidence and precision.
Reading the Green
A successful mini golf shot relies on understanding the terrain of the green. The first step is to assess the slope and curves of the green, which can affect the speed and direction of the ball. Observe the green from different angles to get a better understanding of its topography.
Next, examine any obstacles that are present between the ball and the hole, such as rocks or water features. These obstacles can impact the trajectory of the ball and require careful consideration before attempting a shot.
Additionally, take note of any textured surfaces on the green, such as sand pits or areas of thicker grass. These areas can slow down the ball and make it more difficult to achieve an accurate shot.
By mastering the skill of reading the green, you'll be able to choose the best approach for each shot and significantly improve your overall performance on the mini golf course.
Strategic Shot Selection
One of the keys to success in mini golf is knowing when to take risks and when to play it safe. While aiming for a hole-in-one on every shot may seem tempting, sometimes it's better to go for a more reliable shot that minimizes the risk of ending up in a bad spot.
One of the best ways to make strategic shot selections is to evaluate the layout of the hole and the obstacles in your way. If there's a clear path to the hole and no major hazards, a hole-in-one attempt may be worth the risk. However, if there are multiple obstacles or hazards, it may be smarter to aim for a more strategic shot that avoids the danger.
Another factor to consider is your overall score. If you're playing a round of mini golf with multiple holes, it's important to keep track of your score and adjust your strategy accordingly. If you're already ahead of your opponents, it may be wise to play it safe and aim for more reliable shots to maintain your lead.
Dealing with Hazards
Mini golf courses often feature a variety of hazards that can prove challenging for even the most seasoned players. From water features to winding tunnels and steep inclines, navigating these obstacles successfully can make all the difference in achieving a low score.
Water hazards: Water hazards can be particularly difficult to navigate, especially if you are faced with a shot that requires your ball to travel over the water. Remember to choose a club with enough loft to clear the water, and aim for a spot on the green that will give you a safe landing zone.
Windmills and other obstacles: Windmills, tunnels, and other course obstacles can be a bit trickier to navigate, but with a bit of strategy and patience, you can successfully make it through. Take the time to study the obstacle and plan your shot accordingly. Consider aiming for a spot just past the obstacle to give yourself a better chance of a successful shot.
| | |
| --- | --- |
| Pro Tip: | Take advantage of any on-course features, such as walls or bumps, to help direct your shot. |
Dealing with Sand Traps
Sand traps, also known as bunkers, can be a common obstacle on many mini golf courses. If your ball lands in a sand trap, don't panic! Follow these tips to help you get back on course:
Choose a club with a high degree of loft to help you get out of the sand.
Stand with your feet shoulder-width apart and point your toes out slightly.
Place the ball near the front of your stance and make contact with the sand a few inches behind the ball.
Follow through with your swing to ensure the ball makes it out of the bunker.
By following these simple tips, you can successfully navigate the hazards on the course and enjoy a successful game of mini golf.
Mastering Difficult Holes
Mini golf courses often have holes that pose a greater challenge than others. These holes require a strategic approach and a steady hand. Here are some tips for mastering difficult holes:
Take your time: Rushing your shot can lead to costly mistakes. Take a moment to assess the hole, identify any hazards, and plan your shot accordingly.
Focus on the target: Keep your eyes on the target and visualize the shot you want to make. This will help you aim with greater accuracy and confidence.
Use the right club: Choose a club that allows you to make the shot with the right amount of force and accuracy. If the hole has obstacles, consider using a club that allows you to loft the ball over them.
Stay calm: Don't let frustration get the best of you if you miss a shot. Take a deep breath, regroup, and focus on the next shot.
Remember, every hole is an opportunity to improve your skills, so don't get discouraged. With practice and perseverance, you'll be able to tackle even the most challenging mini golf holes.
Practicing Mini Golf Skills
Like any sport, practicing mini golf regularly is crucial for improving skills and consistency. Here are some tips to help you make the most of your practice sessions.
Focus on specific skills: Rather than just hitting balls aimlessly, identify specific skills that need improvement and focus on practicing those. This could include putting accuracy, club selection, or navigating obstacles.
Set goals: Give yourself targets to aim for during each practice session, such as achieving a certain number of hole-in-ones or completing a course in a certain number of strokes. This will help keep you motivated and track progress over time.
Vary your practice routines: Mix up your practice routines to keep things interesting and challenge different skills. For example, try practicing with only one type of club, or play a course with your non-dominant hand.
Practice under pressure: Mimic the pressure of a competitive game by practicing with friends or timed drills. This will help you build mental toughness and improve performance under stress.
Record your progress: Keep a log of your practice sessions and note areas of improvement or areas that still need work. This will help you track progress over time and adjust your practice routines accordingly.
By following these tips and committing to regular practice, you can improve your mini golf skills and enjoy a more successful and satisfying game.
Etiquette and Sportsmanship
Playing mini golf is not just about putting a ball into a hole, it's also about good sportsmanship and proper etiquette. Here are some guidelines to help you be a respectful and considerate player.
Be courteous to other players and wait your turn to play.
Avoid distracting other players by staying quiet while they're putting.
Don't litter the course, dispose of any trash in the provided bins.
Respect the course and any obstacles, they're there for a reason.
Be honest with your score, don't cheat or move the ball to gain an advantage.
Don't damage any equipment or the course itself.
Remember, mini golf is a fun activity that is meant to be enjoyed by everyone. By following these guidelines, you'll contribute to a positive playing experience for yourself and those around you.
Conclusion
Congratulations! You have now learned the basic techniques for playing mini golf like a pro. Remember, practicing regularly is key. The more you play, the better you'll get.
Before you head out to the course, make sure you review the rules and etiquette of mini golf. Good sportsmanship and respect for others are essential to enjoying the game.
We hope you find these tips helpful and put them to use during your next round of mini golf. So grab your club, head out to the course, and have fun!
FAQ
Q: How do I play mini golf?
A: Mini golf is a fun and popular recreational activity that involves navigating a miniaturized golf course. To play mini golf, you'll need to follow the basic rules and aim to complete each hole in as few strokes as possible.
Q: What are the basics of mini golf?
A: The basics of mini golf include understanding the rules of the game, learning how to hold and swing the club, and being able to read the layout of the course. It's important to aim for the hole and try to avoid obstacles and hazards along the way.
Q: How do I choose the right club?
A: Choosing the right club in mini golf depends on the distance and obstacles you're facing. Different clubs have different angles and lengths, so it's essential to select the one that will give you the best chance of reaching the hole in the fewest strokes.
Q: What is the grip technique for mini golf?
A: The grip technique for mini golf involves holding the club comfortably and securely. You should hold the club with a relaxed grip, ensuring that your hands are aligned correctly with the clubface to have better control over your shots.
Q: How do I improve my swing mechanics in mini golf?
A: To improve your swing mechanics in mini golf, focus on your posture, alignment, and the motion of your swing. It's essential to have a stable and balanced stance, align yourself with the target, and execute a smooth and controlled swing motion to achieve accurate shots.
Q: How do I read the green in mini golf?
A: Reading the green in mini golf involves assessing the slopes, curves, and obstacles on the putting surface. By understanding the characteristics of the green, you can determine the best approach, such as aiming for a direct shot or using the contours to your advantage.
Q: What are some strategic shot selection techniques in mini golf?
A: Strategic shot selection in mini golf involves evaluating the risks and rewards of each shot. Sometimes, it's best to aim for a hole-in-one, while other times, it's wiser to play it safe and aim for a more reliable shot to avoid potential hazards or difficult obstacles.
Q: How do I navigate hazards in mini golf?
A: Hazards are common in mini golf courses and can include water features, obstacles, or challenging terrain. To navigate hazards successfully, you'll need to assess the situation, adjust your shot accordingly, and consider alternative routes to avoid penalties.
Q: How can I master difficult holes in mini golf?
A: Mastering difficult holes in mini golf requires patience and strategy. You can try techniques like visualizing your shot, adjusting your club selection, and practicing more challenging shots to improve your chances of success on challenging holes.
Q: How can I practice and improve my mini golf skills?
A: Regular practice is key to improving your mini golf skills. You can set up a practice routine, focus on specific areas of your game, and incorporate drills that simulate different shots and scenarios to sharpen your skills and enhance your overall performance.
Q: What is the etiquette and sportsmanship expected in mini golf?
A: Etiquette and sportsmanship are important in mini golf. It is crucial to respect other players by not distracting them during their shots, adhere to the course rules, and take care of the equipment. Displaying good sportsmanship fosters a positive playing environment for everyone.
Calendar
September 2023
M
T
W
T
F
S
S
1
2
3
4
5
6
7
8
9
10
11
12
13
14
15
16
17
18
19
20
21
22
23
24
25
26
27
28
29
30