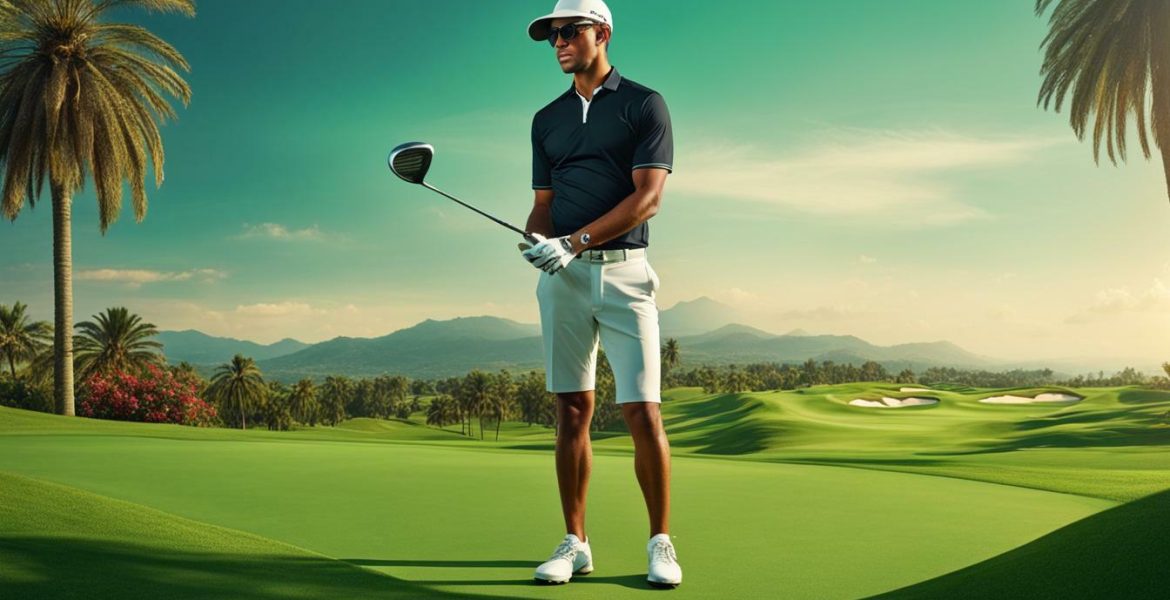 Your Ultimate Guide to Golf Trip Essentials
If you're planning a golf getaway, it's essential to have the right gear and equipment to make the most of your experience. Whether you're a seasoned pro or a beginner, having the right essentials can make all the difference in your game. In this guide, we'll take you through all the necessary items to pack for a successful and enjoyable golf trip.
Key Takeaways:
Proper gear and equipment are essential for a successful golf trip
Choosing the right clubs can greatly improve your game
A comprehensive packing list ensures you have everything you need
Protecting your golf equipment during travel is crucial
Accessories like rangefinders and GPS devices can enhance your golfing experience
Choosing the Right Golf Clubs
Choosing the right golf clubs can make a big difference in your game. There are several factors to consider when selecting the right clubs for your golf trip, including your skill level, playing style, and the specific courses you'll be playing on.
Assess Your Skill Level
Before selecting golf clubs, it's important to assess your skill level. Novice golfers may benefit from using clubs with more forgiveness, while experienced players may prefer more control and precision. Consider taking a lesson or consulting with a pro to determine which clubs are best suited for your game.
Consider Your Playing Style
Your playing style also plays a role in selecting the right golf clubs. Are you a power hitter, or do you rely on finesse and accuracy? Different clubs are designed for different playing styles, so it's important to choose clubs that suit your strengths and weaknesses on the course.
Choose Clubs Based on Course Requirements
Finally, consider the specific courses you'll be playing on during your trip. Different courses have different challenges, and certain clubs may be better suited for particular courses. If you're unsure which clubs to bring, research the courses and consult with a pro or experienced golfers.
Ultimately, choosing the right golf clubs is a highly personal decision that depends on a variety of factors. By assessing your skill level, playing style, and the specific courses you'll be playing on, you can make an informed decision and ensure a successful golf trip.
Packing the Essentials
Before you embark on your golf trip, it's crucial to pack all the necessary equipment and gear. A comprehensive packing list ensures that you have everything you need for a successful and enjoyable golfing vacation. Here are some must-pack items for a golfing vacation:
Golf apparel: Be sure to pack enough golf shirts, shorts, and pants, depending on the length of your trip. Don't forget to include a jacket or sweater for cooler weather.
Golf shoes: A comfortable and supportive pair of golf shoes is essential for a good game. Pack an extra pair of shoes in case of rain or mud.
Golf gloves: Having extra gloves helps ensure you always have a dry pair on hand.
Golf balls: Pack enough golf balls to last throughout your trip.
Golf bag: A sturdy, reliable golf bag is essential for protecting your clubs during travel.
Golf club covers: Use club covers to protect your clubs from damage during travel.
Golf umbrella: A golf umbrella protects you and your equipment from rain and sun.
Golf rangefinder or GPS: These devices help you accurately measure distances and plan your shots.
Golf tees: Pack enough tees to last throughout your trip.
In addition to these must-pack items, there are some other essential golf travel accessories to consider:
Golf towel: A golf towel helps keep your clubs clean and dry during play.
Sunscreen: Protect your skin from harmful UV rays by packing a high SPF waterproof sunscreen.
Hat: A wide-brimmed hat protects your face and eyes from the sun.
Water bottle: Stay hydrated on the course by bringing a large water bottle.
Snacks: Pack nutritious, easy-to-carry snacks like energy bars, nuts, and fruit to keep you fueled throughout the game.
By packing these golf trip essentials, you'll be prepared for any situation on the course. Don't forget to double-check your packing list before you leave to ensure you have everything you need for a successful golfing vacation.
Protecting Your Golf Equipment
As you prepare for your golf trip, protecting your equipment is a crucial aspect to consider. Without proper protection, your clubs, bag, and other gear could be damaged during travel, which can negatively affect your game.
Use Golf Club Covers
Golf club covers are one of the best ways to protect your clubs during travel. They come in various sizes and materials, and many have additional padding for added protection. Use covers for each club to prevent them from knocking against each other and causing damage during transit.
Choose a Durable Golf Bag
A durable golf bag is another important factor to consider when protecting your equipment. Look for bags with sturdy zippers and thick padding. Some bags even have hard shells to provide extra protection. Additionally, make sure the bag is the correct size for your clubs and that they fit snugly inside to prevent movement and potential damage.
Secure Your Golf Bag Properly
When traveling, secure your golf bag properly to prevent it from moving around in your vehicle. Use tie-down straps or a bungee cord to keep the bag in place. Alternatively, you can use a golf bag carrier, which secures the bag to the roof of your car with straps or suction cups.
Consider a Golf Travel Cover
For added protection during air travel, consider using a golf travel cover. These covers wrap around your entire golf bag and provide extra padding and protection during transit. Some covers even have wheels to make it easier to transport your clubs through airports.
By taking these steps to protect your golf equipment during travel, you can ensure that your clubs, bag, and other gear arrive safely and in excellent condition. This will allow you to focus on the game and enjoy your golf trip to the fullest.
Golf-Specific Travel Bags
Investing in a golf-specific travel bag can make transporting your clubs easier and safer. These bags are designed to protect your clubs from damage during transit and are available in a variety of styles and sizes. When choosing a golf travel bag, consider the length and weight of your clubs, as well as your mode of transportation.
Golf club travel cases are a popular option for air travel. These hard-shell cases provide maximum protection for your clubs but can be bulky and heavy. Soft-sided golf bag travel covers are a lighter option and are easier to store when not in use. They offer less protection than hard cases but still provide ample protection for most golfers.
Another option to consider is a hybrid golf travel bag, which combines the benefits of a hard case and a soft cover. These bags are often made with a hard top and a soft bottom, providing a compromise between protection and convenience.
Essential Golf Accessories
While clubs and balls are the primary gear for your golf trip, there are essential accessories that can enhance your experience and improve your game. Here are some must-have golf accessories to consider packing:
Golf rangefinder: This device uses GPS or lasers to help you accurately measure distances, making it easier to choose the right club for each shot.
Golf GPS watches: These watches offer the same functionality as rangefinders but in wearable form. They also provide additional features like step tracking and heart rate monitoring.
Golf training aids: Practice makes perfect, and training aids can help you work on specific aspects of your game. Consider aids like putting trainers, swing trainers, and alignment sticks.
Golf ball retriever: Save time and money by retrieving balls that you or other golfers have hit into the water or rough.
Golf umbrella: Be prepared for unexpected rain showers or intense sun by packing a sturdy golf umbrella. Look for one with a large canopy to keep you and your gear dry.
Golf towel: Keep your clubs clean and dry with a golf towel. Look for one with a clip to attach to your bag for easy access.
Golf glove: A golf glove can improve your grip and prevent blisters. Look for one that fits snugly but not too tight.
Sunscreen: Protect your skin from the sun's harmful rays with a high SPF sunscreen. Look for one that's water-resistant and easy to apply.
Remember to pack only the accessories that you'll actually use. While these items can improve your golfing experience, overpacking can add unnecessary weight to your luggage.
Dressing for Success on the Course
When it comes to golf, dressing appropriately not only shows respect for the sport but also ensures comfort and functionality. Proper golf attire can vary depending on the course's dress code, but there are some general guidelines to follow.
Shirts and Pants
Collared shirts are typically required for men, and women can choose to wear either a collared or non-collared shirt. Avoid wearing t-shirts, tank tops, or any shirt with offensive language or graphics. Pants or shorts should be tailored and made of cotton or synthetic blends. Avoid denim, athletic shorts, or any shorts above the knee.
Footwear
A good pair of golf shoes is essential for a successful game. Look for shoes with soft-spikes to provide traction on the course. Avoid wearing sandals, flip-flops, or any shoe without proper support.
Accessories
Visors, hats, and sunglasses are great for protecting your face and eyes from the sun. Look for hats with a wide brim to provide additional protection. Gloves can help improve your grip, especially in hot or humid conditions. However, gloves are not required.
Overall, when choosing your golf attire, prioritize comfort and functionality over fashion. Avoid loud patterns or bright colors that may distract other players. By following these guidelines, you'll look and feel your best on the course and be able to play your best game.
Staying Hydrated and Nourished
When you're out on the course, it's important to stay properly hydrated and nourished to maintain your energy levels and concentration. Here are some golf nutrition tips and snack ideas to help you perform your best:
Hydration for Golfers
Dehydration can lead to fatigue, muscle cramps, and poor performance on the course. It's important to drink plenty of fluids before, during, and after your round. Water is the best choice, but you can also consume sports drinks that contain electrolytes. Aim to drink at least 8-10 cups of fluid per day to stay hydrated.
Golf Nutrition Tips
Eating a well-balanced diet is essential for golfers to maintain their endurance and focus. Incorporate a mix of carbohydrates, proteins, and fats into your meals to keep your energy levels stable throughout the day. Avoid sugary snacks and instead opt for whole foods such as fruits, vegetables, nuts, and lean proteins like grilled chicken or fish.
Golf Snack Ideas
When you're out on the course, it's important to have convenient and nutritious snacks to keep you fueled. Here are some golf snack ideas:
Fruit, such as apples, bananas, or grapes
Energy bars or protein bars
Trail mix or nuts
Peanut butter and jelly sandwich
Jerky or beef sticks
Remember to pack snacks that are easy to transport and won't get crushed in your golf bag.
Golf Trip Essentials: Sun Protection and Other Essentials
As you prepare for your golf trip, it's essential to pack for sun protection and other items that will enhance your experience on the course. Here are some tips on what to include in your bag:
Golf Sunscreen
Golfing under the sun for extended periods exposes your skin to UV rays, which can lead to sunburn and potentially increase the risk of skin cancer. Protect your skin by applying sunscreen with an SPF of 30 or higher before heading out to the course. Reapply often, especially after sweating or swimming.
Golf Hat
A hat is essential for sun protection and keeping the sun out of your eyes. Opt for a hat with a wide brim and made of breathable fabric to reduce heat buildup on your head. A golf hat also adds a touch of style to your golf attire.
Golf Towels
A golf towel is essential for wiping off sweat and keeping your clubs and balls clean. Moisture-wicking towels are ideal for hot weather conditions as they absorb sweat and dry quickly. Keep a couple of towels in your bag, one for your face and another for your clubs.
By packing for sun protection and including other essentials like golf towels, you'll be ready to focus on your game and enjoy your time on the course during your golf trip.
Golf-Specific Fitness and Recovery
While golf may not seem like a physically demanding sport, it requires a certain level of fitness and flexibility to perform at a high level. Incorporating golf-specific exercises into your routine can help improve your swing and prevent injuries.
One effective exercise for golfers is the rotational twist. Stand with your feet shoulder-width apart and hold a club behind your back, with your hands on either end. Rotate your upper body to the right and then to the left, keeping your feet firmly planted on the ground. This exercise helps develop core strength and improves rotational flexibility.
In addition to exercise, recovery is also crucial for golfers. Practices like stretching, foam rolling, and massage can help improve flexibility and reduce muscle soreness. Make sure to stretch before and after your rounds, focusing on your hips, back, and shoulders.
Finally, don't forget to stay hydrated during your golf trip. Drinking plenty of water and electrolyte-rich fluids like sports drinks can help prevent fatigue and muscle cramps.
Traveling with Golf Companions
Golf trips with friends or family can be a fun and memorable experience, but it requires some planning to ensure everyone has a great time. Here are some tips on how to make the most of your golf trip with companions:
Accommodate Different Skill Levels
It's important to consider the skill levels of everyone in your group when selecting golf courses. If some members are beginners while others are more experienced, choose courses that offer a range of difficulty levels. This will allow everyone to enjoy the game and play at their own pace without feeling overwhelmed.
Organize Friendly Competitions
Playing golf with companions can be a great opportunity for some friendly competition. Organize a game or tournament to add some excitement to your trip and keep things interesting. You can also create teams and play against each other, creating a fun and engaging atmosphere.
Manage Group Dynamics
Traveling with companions can be challenging, and it's important to manage group dynamics to ensure everyone gets along. Make sure to communicate openly and respectfully, and try to accommodate everyone's needs and preferences. This will help prevent conflicts and ensure everyone has a positive experience.
Conclusion
Traveling with golf companions can be a fun and rewarding experience, but it requires some planning and consideration. By accommodating different skill levels, organizing friendly competitions, and managing group dynamics, you can ensure everyone has a great time on your golf trip.
Conclusion
Now that you have a comprehensive guide to golf trip essentials, you'll be able to enjoy your next golfing adventure with confidence. Golf trip essentials like the right clubs, golf-specific travel bags, and protective gear will ensure your equipment stays safe and secure while traveling. Not to mention, must-have items for a golf trip like proper attire, hydration, and nutrition will enhance your performance on the course.
By following these tips, you'll have all the top golf trip gear you need for an unforgettable experience. So, pack your bags and get ready to hit the links with ease and style.
FAQ
What gear do I need for a golf trip?
The essential gear for a golf trip includes golf clubs, golf balls, golf apparel, golf shoes, golf gloves, golf accessories like tees and ball markers, and a golf bag to carry everything.
How do I choose the right golf clubs?
When choosing golf clubs, consider your skill level, playing style, and the specific courses you'll be playing on. It's also helpful to get fitted for clubs to ensure they are the right length, weight, and flex for your swing.
What should I pack for a golf vacation?
When packing for a golf vacation, make sure to include golf apparel, extra golf balls, a hat, sunscreen, a towel, a water bottle, snacks, and any necessary personal items like medication or toiletries.
How can I protect my golf equipment during travel?
To protect your golf equipment during travel, use golf club covers, a padded golf travel bag, and foam tubes to separate and cushion your clubs. Also, remove any loose or fragile items from your golf bag.
What type of golf travel bag should I use?
There are different types of golf travel bags, including soft-shell bags, hard-shell cases, and hybrid bags. Consider factors like durability, ease of transport, and additional features like wheels or handles when choosing the best one for your needs.
What are some essential golf accessories?
Essential golf accessories include rangefinders or golf GPS devices for distance measurements, golf training aids for practice and improvement, and golf gloves, headcovers, and divot repair tools for on-course convenience.
What should I wear when playing golf?
Proper golf attire typically includes a collared shirt or golf polo, golf pants or shorts (no denim), golf shoes with soft spikes or spikeless soles, and a golf hat or visor. Check the specific dress code of the course you'll be playing on for any additional requirements.
How can I stay hydrated and nourished during a golf trip?
Stay hydrated by bringing a water bottle and drinking plenty of fluids throughout your round. Pack nutritious snacks like granola bars, fruit, or trail mix to keep your energy levels up during long days on the course.
How can I protect myself from the sun during golf?
Protect yourself from the sun by wearing sunscreen with a high SPF, a wide-brimmed hat or visor, and sunglasses with UV protection. Carry a golf towel to wipe away sweat and use it to cover your neck or shoulders for extra sun protection.
Are there any specific exercises or recovery practices for golfers?
Golf-specific exercises like rotational stretches, core strengthening exercises, and balance drills can help improve your swing and overall fitness for golf. Additionally, incorporating practices like foam rolling and stretching can aid in recovery and prevent injuries.
What considerations should I keep in mind when traveling with golf companions?
When traveling with golf companions, consider their skill levels and plan activities or courses that accommodate everyone. Organize friendly competitions or team games to keep things fun, and communicate openly to manage group dynamics and ensure everyone enjoys the trip.
Calendar
December 2023
M
T
W
T
F
S
S
1
2
3
4
5
6
7
8
9
10
11
12
13
14
15
16
17
18
19
20
21
22
23
24
25
26
27
28
29
30
31