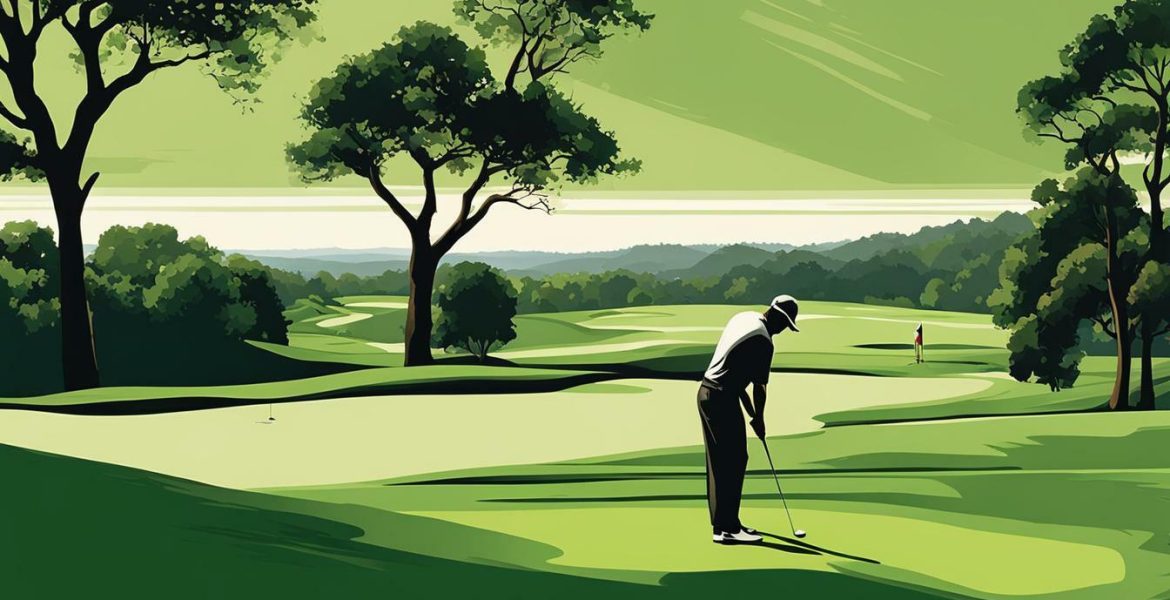 Master Golf Strategy for High Handicappers – Boost Your Game Today
As a high handicapper, you know all too well the frustration of struggling through a round of golf. But fear not – with the right golf strategies in your arsenal, you can significantly improve your golf game and lower your handicap. In this section, we will explore effective golf strategies specifically designed for high handicappers, helping you take your game to the next level.
Key Takeaways
Effective golf strategies can greatly improve your game as a high handicapper
Implementing these strategies can help lower your handicap and increase your overall success on the course
Golf strategy involves analyzing your game, mastering your swing, strategic club selection, course management tactics, mental game techniques, and practicing with purpose
By following the tips and techniques outlined in this article, you'll be well on your way to enjoying a more successful and satisfying golf experience
Improving your golf game takes time and effort, but it's worth it to see the results in your scores and performance
Understanding High Handicaps
If you're a high handicapper, you probably understand the frustration of not being able to play at the level you desire. But, don't worry, you're not alone. Many golfers struggle with high handicaps, and it's essential to understand what that means to improve your game.
High handicaps typically indicate that you are averaging more strokes above par than a low handicap golfer. If you're new to golf or have a swing speed that's not as fast as others, then it's understandable that you may have a high handicap.
However, high handicaps can also be due to a lack of course management skills or poor shot selection. By identifying the root causes of a high handicap, you can work towards improving your game and lowering your score.
High Handicapper Tips
Focus on your strengths: Identify your strengths and play to them. If you're a good putter, then focus on putting skills to help lower your score.
Practice consistently: Practice is essential for golfers, regardless of skill level. Make a habit of hitting the range or practicing your chipping and putting regularly.
Stay patient: Golf is not an easy sport, and it takes time to improve your game. Practice patience and don't get discouraged if you don't see immediate results.
Golf Tips for High Handicap Golfers
Focus on accuracy over distance: While it's tempting to try and hit the ball as far as possible, high handicappers may benefit more from focusing on accuracy. Try to hit straighter shots, and avoid hazards.
Take advantage of the short game: Short game skills are just as important, if not more important, than long game abilities. Focus on developing your chipping and putting skills, and you may notice a reduction in your handicap.
Develop a pre-shot routine: A consistent pre-shot routine can help alleviate nervousness and improve focus. Take a few moments before each shot to visualize your shot and clear your mind of distractions.
By understanding what it means to be a high handicapper and implementing these tips, you can start improving your golf game. Keep in mind that golf is a sport that takes time and patience to master. But with consistent practice and dedication, you can lower your handicap and enjoy a more satisfying golf experience.
Analyzing Your Game
Before developing a strategic game plan, it's crucial to analyze your current golf game. This assessment will help you identify areas for improvement, pinpoint your strengths and weaknesses, and set yourself up for success. Here are a few golf course strategies to help analyze your game:
Take Note of Your Shots
One of the best ways to assess your golf game is to take note of every shot. This includes both successful and unsuccessful shots. Record details such as the club used, the distance, the direction, and the outcome. This data can help you identify patterns and tendencies in your game, which will help you develop a personalized game plan.
Identify Your Strengths and Weaknesses
After noting your shots, identify your strengths and weaknesses. Take note of the clubs that you feel most confident with, as well as the ones that give you the most trouble. This will help you develop a strategic club selection plan. Additionally, identify the areas of the game where you struggle the most, such as putting or chip shots. By pinpointing your weaknesses, you can develop a targeted practice routine.
Develop a Personalized Game Plan
By analyzing your game, you can develop a personalized golf course strategy that is tailored to your strengths and weaknesses. Focus on improving your weaknesses, while also leveraging your strengths to your advantage. This strategy will include choosing the right clubs for specific scenarios and identifying the areas of the course where you can make up strokes.
By analyzing your game and developing a personalized game plan, you can optimize your golf skills and set yourself up for success on the course. Remember, golf is a game of strategy and technique, and a little preparation can go a long way.
Mastering Your Swing
As a high handicapper, improving your golf swing can greatly enhance your game. Here are some golf swing tips and techniques to help you get started:
1. Focus on Your Grip
A proper grip is essential for a consistent and powerful swing. Make sure your grip is secure but not too tight, and keep your hands aligned with the clubface. A neutral grip is ideal for most golfers.
2. Keep Your Stance Stable
A stable stance is crucial for a consistent swing. Keep your feet shoulder-width apart and distribute your weight evenly between your feet. Avoid swaying or shifting your weight during your swing.
3. Rotate Your Hips
To generate power in your swing, you need to rotate your hips. As you swing, start your downswing with a slight hip rotation, and then follow through with a full rotation. This will help you generate more speed and distance.
4. Use Proper Posture
Your posture can greatly impact your swing mechanics. Stand tall with your shoulders relaxed and your spine straight. Bend forward from your hips, not your waist, to maintain proper balance and alignment.
5. Practice Tempo and Timing
Tempo and timing are essential for a consistent and effective swing. Practice swinging with a smooth and consistent tempo, and focus on the timing of your downswing. Proper tempo and timing can greatly improve your ball contact and accuracy.
By implementing these golf swing tips and techniques, you can enhance your swing mechanics, increase your power and consistency, and make significant improvements to your overall game. Practice regularly and stay committed to mastering your swing.
Strategic Club Selection
Choosing the right club for each shot is a crucial aspect of your golf course strategy. As a high handicapper, you may find yourself relying on a few clubs more heavily than others, but it's important to consider all the options available to you.
Start by analyzing the distance to the hole and any obstacles in your way, such as bunkers, water hazards, or trees. Once you have a clear understanding of the challenges ahead, you can make an informed decision on which club to use.
Remember, it's not always necessary to hit the ball as far as possible. Sometimes a shorter shot with a higher degree of accuracy can be more beneficial in the long run. Don't be afraid to use a higher numbered club, such as a 7 or 8 iron, for shorter shots or tighter fairways.
Additionally, consider the lie of the ball. If your ball is sitting in the rough or a sand trap, you may need to use a more lofted club to get the ball out. On the other hand, if your ball is sitting on the fairway with a clear shot to the green, you can opt for a lower lofted club for more distance and control.
By strategically selecting your clubs based on the situation, you can improve your chances of hitting quality shots and lowering your scores. Keep these tips in mind during your next round and watch your golf strategies improve!
Course Management Tactics
As a high handicapper, proper course management is crucial for success on the golf course. By analyzing the course and making strategic decisions, you can minimize mistakes and maximize your scoring opportunities. Here are some course management tactics to help you improve your game:
Know Your Clubs
Understanding the distance and accuracy of each of your clubs is key to making smart decisions on the course. Take the time to practice with each club, so you have a good idea of how far you can hit it and how accurately you can do so.
Play to Your Strengths
Identify the areas of your game where you excel. For example, if your short game is strong, focus on chipping and putting to give yourself more scoring opportunities. Alternatively, if you struggle with accuracy off the tee, consider using a hybrid or long iron instead of your driver on tighter holes.
Assess the Risks
Before making any shot decisions, assess the risks involved. Is it worth trying to hit a risky shot over water or a bunker, or would you be better off playing it safe and taking a more conservative route?
Manage Your Expectations
It's important to be realistic about your abilities and set achievable goals for yourself. Don't expect to hit a perfect shot every time, and don't get discouraged when you make mistakes. Instead, focus on making smart decisions and playing to your strengths.
Stay Positive
Remember that golf is a mental game, and a positive attitude can go a long way. If you hit a bad shot or make a mistake, don't dwell on it. Instead, focus on the next shot and how you can make the most of it.
By implementing these course management tactics, you can make smarter decisions on the course, minimize mistakes, and improve your overall game. These golf strategies for beginners can help you take your game to the next level and achieve success on the golf course.
Mental Game Techniques
Golf is as much a mental game as it is physical. A strong mental game can be the difference between a successful round and a frustrating one. While it's important to work on your swing and other physical aspects of the game, it's equally important to develop your mental focus and approach. Here are some golf strategy tips to help you improve your mental game and take your performance to the next level.
Visualize Success
Visualizing successful shots and scenarios can help you build confidence and maintain a positive attitude on the course. Before taking a shot, take a moment to visualize the outcome you want to achieve. This mental exercise can help you feel more relaxed and focused, reducing the likelihood of making mistakes or succumbing to pressure.
Stay Present
One of the biggest challenges for high handicappers is staying focused and present throughout the round. It's easy to get caught up in previous mistakes or worry about future shots, but this can be detrimental to your performance. To improve your mental game, practice staying in the moment and focusing on the shot at hand. Take a deep breath, clear your mind, and give each shot your full attention.
Develop a Routine
Establishing a pre-shot routine can help you stay focused and calm on the course. Your routine can include anything from taking a deep breath to visualizing your shot to practicing your swing. By repeating this routine before each shot, you'll establish a sense of consistency and confidence that can improve your overall performance.
Embrace Challenges
Golf is a challenging game, and high handicaps can make it even more so. Rather than letting difficult shots or situations get you down, embrace the challenge and use it as an opportunity to grow and improve. Reframe any negative thoughts or emotions into positive ones and approach each shot with a growth mindset.
By incorporating these golf techniques and golf strategy tips into your mental game, you can improve your focus, confidence, and overall performance on the course. Remember, golf is as much a mental game as it is physical, so don't neglect this important aspect of your training.
Practicing with Purpose
Practice is essential for improvement, but simply hitting balls on the range or putting green won't necessarily lead to progress. To truly improve your golf game, you need to practice with a purpose. Here are some tips to help you make the most of your practice sessions:
Set specific goals: Before each practice session, set specific goals for what you want to achieve. This could be anything from improving your putting accuracy to hitting more fairways off the tee. By setting goals, you'll have a clear focus and direction for your practice.
Vary your practice routine: Don't get stuck in a rut with the same routine every time you practice. Mix it up by practicing different shots and techniques, and focus on your weaknesses as well as your strengths.
Prioritize quality over quantity: It's better to have a shorter practice session where you're fully focused and engaged than a longer session where you're just going through the motions. Make every shot count and give each one your full attention.
Work on your mental game: Use your practice sessions to work on your mental game as well as your physical skills. Practice techniques to stay calm under pressure, stay focused on your goals, and maintain a positive attitude.
Get feedback: Have a friend or coach watch you practice and offer feedback on your technique and strategy. This can help you identify areas for improvement that you may not have noticed on your own.
By practicing with purpose, you'll develop your skills, gain confidence, and see significant improvements in your golf game. So next time you hit the range or the putting green, remember to set goals, vary your routine, prioritize quality, work on your mental game, and seek feedback. With consistent practice and a purposeful approach, you'll be well on your way to improving your golf game and lowering your handicap.
Conclusion
Mastering golf strategy as a high handicapper is essential to improving your golf game. By implementing the tips and techniques discussed in this article, you'll be well on your way to lowering your handicap and enjoying a more successful and satisfying golf experience.
Remember to analyze your game, master your swing mechanics, select clubs strategically, manage the course effectively, and maintain a winning mental attitude. Regular practice with a purpose is key to improvement, so be sure to incorporate effective practice drills and routines into your game plan.
With these strategies and techniques in mind, you can optimize your golf skills and achieve your goals on the course. Start implementing these golf strategies today to see a significant improvement in your game.
FAQ
What is a high handicapper?
A high handicapper is a golfer who has a higher handicap index, indicating they typically score higher than a low handicapper. It generally means that the golfer is less experienced or has difficulty consistently shooting low scores.
How can golf strategies help high handicappers?
Golf strategies specifically designed for high handicappers can help improve their game by providing techniques and tips to overcome common obstacles and challenges they face on the course. These strategies can lead to better shot outcomes, lower scores, and a more enjoyable golfing experience.
How can I analyze my golf game?
To analyze your golf game, you can start by assessing your strengths and weaknesses. This can be done by tracking your scores, identifying patterns in your game, and seeking input from a golf instructor or experienced golfer. Analyzing your game will help you understand areas for improvement and develop a personalized game plan.
What are some tips for improving my golf swing?
To improve your golf swing, focus on proper mechanics, such as grip, stance, and alignment. Practice drills that target swing consistency and power generation. Seeking professional instruction can also be beneficial in refining your swing technique.
How can I make smarter club selections on the course?
Strategic club selection involves considering factors such as distance, hazards, and terrain when choosing a club. Familiarize yourself with the distances you typically hit each club and make decisions based on the specific circumstances of each shot. Practice club selection during practice rounds to gain confidence in your decision-making abilities.
What is course management and how can it benefit high handicappers?
Course management involves making strategic decisions on the course to maximize scoring opportunities and minimize mistakes. High handicappers can benefit from course management tactics by selecting safer shots, avoiding unnecessary risks, and playing to their strengths. This approach can help improve scores and increase overall consistency.
How can I improve my mental game in golf?
Improving your mental game in golf involves techniques such as visualization, positive self-talk, and staying focused on the present moment. Developing a pre-shot routine and practicing mindfulness can also help improve mental focus and composure under pressure.
What are some practice drills for high handicappers?
High handicappers can benefit from practice drills that focus on specific areas of their game, such as putting, chipping, and driving. Incorporating simulated on-course scenarios into practice sessions can also help prepare for real game situations. Consistent and purposeful practice is key to improvement.
Calendar
December 2023
M
T
W
T
F
S
S
1
2
3
4
5
6
7
8
9
10
11
12
13
14
15
16
17
18
19
20
21
22
23
24
25
26
27
28
29
30
31